Spa Services

Call to book your appointment today! 843-640-2444
Indulge yourself! Gift Certificates are available, too. For basic massage services, please click here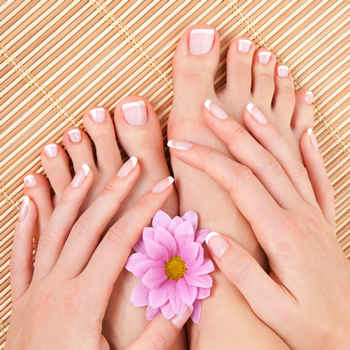 Spa Package
Featuring an hour-long full body massage, a sea salt or sugar body scrub, and a customized body wrap. Choose your pleasure from our assortment of essential oils to create your own treatment: from toning and hydrating lavender & seaweed, to invigorating vanilla coffee bean, or sweet coconut and lemongrass. You will leave feeling baby soft, refreshed and relaxed.
120 minutes ...................... $175

Warm Cocoa Butter Wrap
Our specialized treatment begins with a dry exfoliation, enriching your natural circulation.  Then relax as your therapist massages a delightfully warm and soothing cocoa/shea butter oil into your skin.  While the treatment soaks in, enjoy scalp and facial massage to release stress and tension.  The wrap is followed by additional full body massage. This special wrap is highly nourishing, offering the ultimate in hydration for your skin, along with the relaxing benefits of massage and cocoa butter.  Treat your skin and relieve your stress!
120 minutes ...................... $175

Prenatal Spa Package
Pamper the mommy-to-be with a full body massage and sugar scrub. Her massage will include the essential oils of lavender to relax her, cypress to reduce swelling, and citrus to combat fatigue. A tangerine and lavender sugar scrub will leave her skin as baby soft as the day she was born. Prenatal Massage is perfectly safe during a healthy pregnancy. It can reduce stress, soothe her aches and pains, and give her a well deserved indulgence.
90 minutes...............................$125

Salt Glow
Exfoliate your whole body to reveal the smooth, supple skin underneath and stimulate skin cell regeneration. A customized blend of dead sea salts and essential oils gently scrubs the whole body, and natural, healing oils hydrate and moisturize. The service is finished off with the application of hot towels to leave you refreshed and super soft. Choose your essential oil scents or have your massage therapist blend something perfect for you.
30 minutes ........................... $60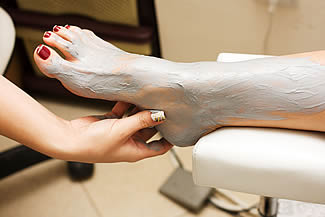 to enhance another service .... $45

Body Wrap
Begin with an exhilarating body scrub with sea salt and essential oils as described above. Then a custom blend of herbal mud is applied to the body, which is wrapped to retain body heat and allow the ingredients to penetrate. While the wrap does its works, enjoy a complimentary scalp and/or facial massage. Choose your wrap from our all natural muds or seaweed, incredibly rich in vitamins and minerals and believed to draw toxins from the body. You will leave feeling baby soft and refreshed.
Seaweed is not recommended for those with shellfish allergies
60 minutes .................. $95

"Happy Feet" Scrub and Massage
A good foot massage relaxes the entire body, so this service makes a wonderful addition to any massage. An exfoliating salt scrub with the invigorating essential oils of peppermint and rosemary softens your feet. Hot towel compresses warm and relax your feet, and our very own handmade foot creme softens and moisturizes during a wonderful foot massage.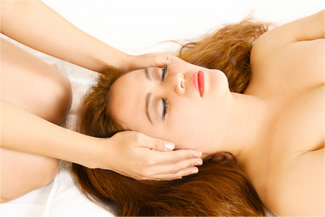 15 minute add-on..................$25
30 minute add-on .................$40
30 minute stand-alone service.....$55

Sleepy Head
Scalp massage has numerous benefits, first and foremost being soothing for the mind and nervous system. It has also been proven to improve concentration and memory by increasing circulation of cerebrospinal fluid. We combine this decadent treatment with essential oils of geranium, lavender, and ylang-ylang to promote healthy, shiny hair.

15 minute add-on..................$25

Hot Stone Massage
Integrating the warmth of volcanic stone and the therapists' intuitive hands, this unique experience will melt away your tension. This massage combines the powerfully relaxing effects of heat with the skilled hands of a massage therapist. Hot Stone therapy has been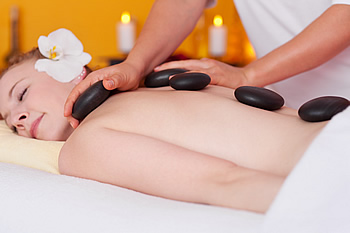 around for centuries to bring about physical, mental, and spiritual well-being. Native Americans, Europeans, and Chinese all have used hot stones to soothe injuries and in body treatments for well-being. In hot stone massage, smooth volcanic rocks are heated and placed strategically along your body, on energy centers and pressure points. Their heat gently penetrates into the soft tissue layers, softening your muscles and relaxing your mind. The therapist further uses the stones and her hands to massage you, bringing about a sense of balance and deep, inner well-being.

60 minutes.................. $90
90 minutes.................. $115


Aromatherapy Massage
High quality essential oils have therapeutic effects to enhance your massage experience. Choose from calming lavender, refreshing peppermint, cheering citrus, and many others, or ask your massage therapist to make a blend specific to your needs. We use only pure, all natural essential oils (not fragance oils, which are chemicals)
Add to any session ...................... $20

The Ultimate Foot Massage
Take relaxation to the next level, with time devoted solely to soothing your feet. Includes hot stones, cooling aromatic oils & relaxation reflexology.
45 minutes......................... $70
30 minute add-on.............. $45
Call to book an appointment! 843-640-2444

Kindly leave a voicemail if we are unable to answer ~
we are often in appointments but will respond as soon
as we are able.