Frequently Asked Questions (FAQ)
Massage & Reiki in Charleston, SC
Question: I've never had a massage before.
Will I need to undress?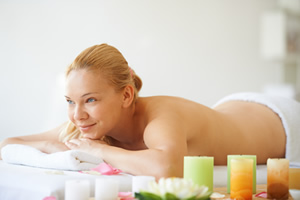 Answer: Your therapist will show you to the treatment room, where s/he will leave you to undress in privacy. Typically, one undresses completely except for panties or boxers/briefs. You will then lie on the table and pull the top sheet over yourself for privacy. Our therapists are professionally trained to respect your privacy, and you will be properly draped at all times. However, if you are particularly uncomfortable with this state of undress, please discuss this with your therapist and undress only to your level of comfort, and s/he will work on you to the best of his or her abilities through or around the clothing you keep on. Please bear in mind that some deeper tissue work cannot be done through clothing, so if you are uncomfortable with undressing but need deeper work done, you may wish to discuss this upon booking your appointment to address any concerns you may have.
We also offer chair massage, which does not require undressing at all, but does have limitations as to what areas can be worked on, and how deeply.
Question: Will it be quiet during my massage,
or do you play music?
Answer: For your best experience, your therapist will play a relaxing music track. You are welcome to bring your own music if you have a specific request, but please check with your therapist. It is important that what helps you to relax is not distracting to your therapist in order for s/he to focus on you. If what your therapist chooses to play while working on you is not relaxing for you or bothers you in any way, please let him/her know and s/he will change it for you!
Question: How many rooms do you have in your studio?
Can I bring a friend to have a massage at the same time?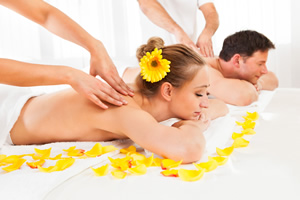 Answer: We are a small studio, and only have one treatment room. However, we do offer couples' massages! These are very romantic for spouses or other couples, but are also really fun for friends to do together! A great way to spend a girls' night or afternoon out. Please contact us well in advance to book this, as we have limited times that we have two therapists available simultaneously.

We also share the building with a chiropractor, Dawn Yonce, and if we cannot accomodate you for a couples'/friends' massage, we may be able to offer you back-to-back massages. If Dawn is available, whoever is waiting could take advantage of her chiropractic services while waiting.
Question: Do you use oil or lotion for your massages?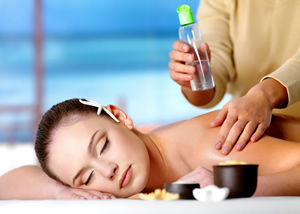 Answer: We typically use pure cold pressed grapeseed oil. We have lotion available upon request for a $15 additional fee. Generally speaking, oil is better for dryer skin and lotion is preferred for very oily skin. Some of our therapists prefer lotion over oil and will use this unless you have requested one in particular. Please let us know when you book if you have a preference for oil or lotion.
Please ensure that if you have a skin issue that you discuss this when making your appointment to ensure that massage is appropriate for this.
Question: Why do you want my medical history?
Answer: True, massage therapists are not doctors. But, there are medical issues that massage is not appropriate for. Your massage therapist has been trained to be aware of those issues, as well as what types of strokes and techniques will be most beneficial for the issues that you do have. There are also some medical issues that massage may be appropriate for, but only with your doctor's permission. If you aren't sure about this before booking your massage, please ask us at that time or ask your doctor.
Question: Are all of your massage therapists female?
I'm not sure about a man I don't know touching me...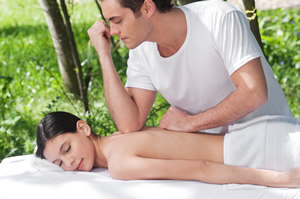 Answer: We have both male and female therapists. All have been professionally trained in the same method. It's no different than having a male or female doctor or dentist (though of course LMTs are not doctors, this is just an analogy!). That said, some people may have a preference, and we want you to be comfortable. You are welcome to request a female (or male) therapist, but please be aware that this may limit our ability to accomodate your requested timeframe, depending upon who is on duty at that time. You can read about our therapists here.
Question: I've never had a massage before.
Am I supposed to be quiet the whole time?
Answer: That is a personal decision. Most people prefer silence, to relax as deeply as possible, and some even fall asleep. You should definitely speak up if you experience any discomfort, or anything else that should be communicated to your massage therapist. There are some clients, though, who enjoy a conversation during their massage, and this is perfectly fine! Healing Hands massage therapists are always happy to listen if you'd like to talk about anything during your massage.
Question: Should I do anything special after my massage?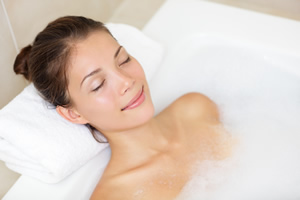 Answer: You should not plan to do any strenuous activity right after your massage. Your muscles will be loosened up, so lifting heavy items or other strenuous activity could cause an injury. You will also be "undoing" the work that your massage therapist has just done - tensing your muscles back up.
Most massage therapists also recommend that you are gentle with your body in other ways following your massage, as you will be detoxifying. You should eat healthy foods, drink plenty of water if that is appropriate for you, and perhaps even take a soothing bath if you do not have any medical issues that contraindicate this. All of this will aid in the detoxification (aka "detox") process.
If you have regular massage, Reiki, or any other healing modality that causes detoxification on a regular basis, your detox reaction will likely be minimal. If you haven't practiced self-care in a long while, it may be more intense and could even involve fatigue, mild flu-type symptoms, or headache. Practicing good self-care following your massage will help prevent this or at least speed up the body's ability to flush the toxins and return you to a healthier state.
Question: I booked a one hour massage.
But, how much time will I really have by the time I fill out the paperwork, go into the room, get undressed, and wait for the therapist to return to the room?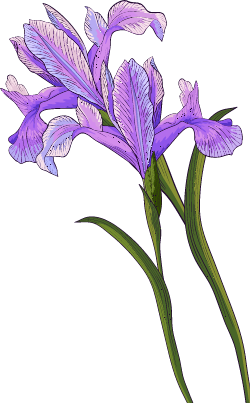 Answer: At Healing Hands Massage & Bodywork, when you book a one hour massage, you receive a full one hour massage! The only exception to this is if you arrive late, as your therapist may have another client following you and cannot change the schedule. If you arrive on time (10-15 minutes prior to appointment time UNLESS you have filled out your intake form in advance), fill out your paperwork and undress in a reasonable timeframe, your therapist will be able to spend a full hour massaging you! We always book extra time into your appointment to allow for time to undress and then dress again following your massage. It is recommended that you arrive 10-15 minutes early to your appointment to fill out the paperwork for your first appointment unless you have filled it out in advance. To download, print, and fill it out at your leisure, please click here for PDF or here for Word doc version.
If you have any further questions, please do not hesitate to call us at 843-640-2444
We look forward to creating your relaxing experience with us!