Reiki in Charleston, SC
Most simply put, Reiki is an alternative healing modality. Most people have heard of "laying on of hands," and Reiki is a form of energy healing that consists of a practitioner "laying hands" on someone - or even just holding his or her hands in that person's energy field - and transmitting a healing energy to that person.
At Healing Hands Massage & Bodywork, we offer a variety of Reiki services - Reiki sessions as well as Reiki-ssages, which are a combination of Reiki and massage. We also have regular Reiki workshops for those who are new to Reiki and wish to learn it, and also more advanced workshops for those who have begun their Reiki training but wish to further their learning.
Reiki Sessions

Reiki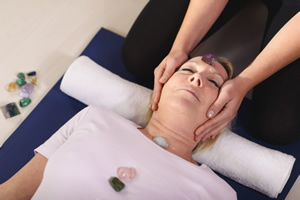 Reiki means "universal life force energy" and is a holistic therapy for emotional, physical, mental, and spiritual healing. Reiki balances your body's energy so that it can better heal itself. For more details, visit Reiki on this site. Sessions include a brief discussion as well.
One session (45-60 minutes) .............. $80

Reiki-ssage
This service combines the benefits of Reiki with massage for those who want to directly experience Reiki but also want some "hands-on" time. This is a deeply relaxing, balancing experience.
75 minutes .............. $90
90 minutes .............. $100
2 hours .................. $125

The Happy Coma
The ultimate in relaxation bliss! All the benefits of a Reiki-ssage, only with two therapists working on you at once - one massage therapist and one Reiki practitioner. This gives you the experience of a full body massage, plus a full Reiki treatment, all in one. Coined "The Coma" by original owner Rachel Hazelwood after she experienced this blissful offering.
60 minutes .............. $160
75 minutes .............. $180
90 minutes................$195